Ready to take the next step?
CommTrak CRM – Building Business Confidence

Your business has grown. There are suddenly numerous people, varying goals, multiple to dos and countless streams of conversations opening and flowing and you aren't privy to any of them.
In this unfamiliar territory, you need confidence that everyone is working towards the same goal. You need confidence your information is safe. You need confidence that the business will run when you aren't there – or someone else leaves.
Introducing CommTrak. The CRM that gives you and your people the ability to track workflow, store data, monitor sales and share information – anywhere, anytime.
Commtrak gives you the confidence that:
Your business' intellectual property is protected
Your business value isn't reliant on one person's knowledge
Your leads are converted
Your people are working efficiently
Access CommTrak Anywhere

Access CommTrak online, anytime on any PC, tablet or smart phone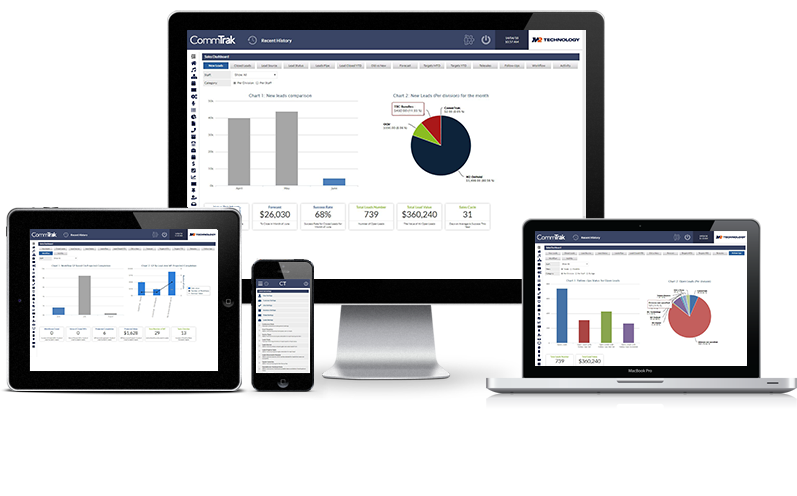 What's unique about CommTrak?
CommTrak helps you grow sales faster, increase win rates and improve customer service – for up to 80% less than the cost of some CRMs. Aside from the massive cost-saving, why is CommTrak the best CRM for your business? We asked a few of our happy clients:
'It has taken over a decade of tweaking but the introduction of CommTrak across the country has positively impacted on the operation, efficiency and profits of those using the system. I implore you to request a free demo to see how CommTrak can positively influence your business' Kevin Green, Managing Director M2 Technology Group
'Before we used CommTrak, we employed a full time staff member to reconcile our payments. Today, utilising the payment reconciliation module, we require only a part time staff member and I know with confidence we are receiving our payments'  Justin Green, M2 Digital ICT